★ website content coordinator, sci-fi geek, caffeine enthusiast.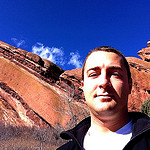 I've been a web content specialist for the last several years – most recently with Harley-Davidson Motor Company, improving digital communications to their dealer network by managing the intranet, coordinating email broadcasts and implementing a new CMS. (I left HDMC in late 2013, so if you're looking for someone to do that sort of work for you, let's talk!)
When 140 characters don't suffice, I might try stringing together some coherent sentences on my blog.
Located in Denver, Colorado, USA, Terra, Sol System, as of April 2014.
(Originally from Milwaukee, Wisconsin.)