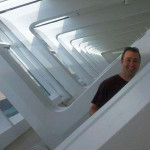 ★ website content coordinator, sci-fi geek, caffeine enthusiast.
Currently in Milwaukee, Wisconsin, USA, Terra, Sol System,
but relocating to Denver, Colorado in 2014.
I get interested in things like web standards, data accessibility and semantic markup like microformats, and web content management. Sometimes I write a blog when my thoughts can't be condensed nicely into 140 characters.
When I'm not on the computer, I try to spend my time hiking, biking and reading. I know exactly what superpower I'd want and could easily discuss it with anyone who's willing.